What is the use of XQuery?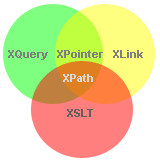 XQuery vs. XSLT
XQuery has originally a rather specific goal: extract XML fragments from a large(r) collection. This is very different from XSLT, which focusses on transforming XML documents into other XML documents, HTML documents or even documents of other formats.
You would think it should be pretty clear when and why you should use which standard. Yet we often hear the question whether it is best to use XSLT, or best to use XQuery. The point is that these two languages, more than the other ones, have a considerable overlap. There are many tasks you can do in XSLT, that you can also do in XQuery and vice versa. Although this question is in some ways unjustified and not always important, I'll discuss it in a little more detail below here.
If you can tackle something in multiple ways, and both ways do it with similar ease, there is no real reason for rejecting either of the two. Yet you will see that some people prefer XQuery. The syntax of XQuery is much more compact because it is not expressed in XML as XSLT. On the other hand, XSLT is based on a different principle, making doing for instance certain structural changes much easier. In this sense, it is mainly down to personal taste and the specific challenges of the task at hand, which of the two will be used by someone in particular for a given task.
However, XQuery is often used in combination with databases. That affects the balance. Firstly, XSLT fans aren't always the same people who will be dealing with databases and vice versa. XSLT is more common in the area of document conversions. Secondly, databases entail additional challenges, often of an entirely different order of magnitude. XQuery has extensions that provide help in those areas. But there are no (official) XSLT extensions, and there is no real need for it either.
And that is why comparing XQuery and XSLT is so difficult, and therefore usually futile.
XQuery relatively unknown
The fact that XSLT exists much longer than XQuery, also affects the balance. In the beginning people had not much choice. Later on people got used to the quickly matured XSLT, while XQuery was still a working draft for quite some years. The idea for an "XML Query Language" arose along the emergence of XML, but it took long before it became a W3C Recommendation. XQuery is still relatively new, compared to XSLT and XPath.
One reason for this is that, after the launch of XPath in 1999, people soon became aware that such language could be largely based on XPath. That resulted in the first Working Draft of both XQuery 1.0 and XPath 2.0 in 2001. XSLT could and should of course also benefit. The XSLT 2.0 Working Draft was initiated at the same time. The Recommendations of these three were released more or less simultaneously. We are talking about 2007 by then, that is six years later!
XQuery needs to catch up with XML databases as well. Various kinds of XML databases emerged after the advent of XML, but the idea of a generic Query Language didn't appear until several years later. The fact that XQuery reached the Recommendation status only in the recent years, has slowed broad support in commercial database products the years before. A few large parties like IBM were involved in XQuery early on, other parties such as Oracle followed only years later. It was likewise with commercial XML databases: there were some early-adopters, but most of them preferred to wait to see which way the cat would jump.
Relation with databases
The fact that XQuery is used so often in combination with databases, is no coincidence. It is obvious to want to put large collections of XML in an (XML) database. Databases are designed for large-scale storage and efficient extraction. It fits the purpose of XQuery perfectly.
Relation with database functionality
Development around XQuery hasn't stood still during all those years, though. There are quite a number of extensions to XQuery, which significantly increase the power of XQuery. Part of them find their origin in the application of XQuery to databases.
Efficient storage and extraction
(Full Text) Search
Transactional updates
Data integrity and triggers
Parallel processing and access
Security and crash recovery
Version control of data
Storage is of course inherent to databases. A good database also provides facilities for concurrent access and updates, security, and crash recovery. Extraction is covered by XQuery 1.0, the search by the Full-Text standard, updates by the Update Facility standard. And there are extensions for data integrity and versioning as well, though yet unofficial. More on that in the following part.
Extensions on XQuery
Storing all this versioning data requires a lot of disk space, but it is such cheap these days that costs are no longer a problem.
Beyond Scope
But XQuery goes even further. There are currently two extensions that go way beyond database functionality.
All of this makes XQuery very suitable as a 'scripting' language, allowing it to compete with languages such as JSP, ASP and PHP. In fact when speaking of web applications it can compete with languages like Java and .Net equally well. It is not for nothing that W3C states:
Programming Language
In short, XQuery is not just for "Querying XML" no longer. In XQuery, you can develop application logic and application layers all together. That makes it the core of your entire application. This goes way further than any other XML standard.
Learn more?
About the author